Vozol D4 disposable pod vape kit
Puffs
1000 puffs
Battery
640 mAh
Capacity
4 ml
Nicotine(mg)
2%20mg;
5% (50mg)
Flavors
1.Lush Ice + Iced Mango
2.Blue Razz Ice + Strawberry Ice Cream
3.Lychee Ice + Pink Lemonade
4.Orange Soda + Pineapple Ice
5.Banana Ice + Mango Apple Pear
6.Peach Ice + Guava Ice
7.Butter Tobacco + Mint
8.Grape Ice + Mixed Berries Ice Cream
Packing List:
1 * VOZOL D4 Disposable Pod

Weight: 50g

1 Middle Box = 10Pcs

400Pcs Per Carton
1.VOZOL D4 disposable vape pod kit, the biggest dual flavors disposable pod.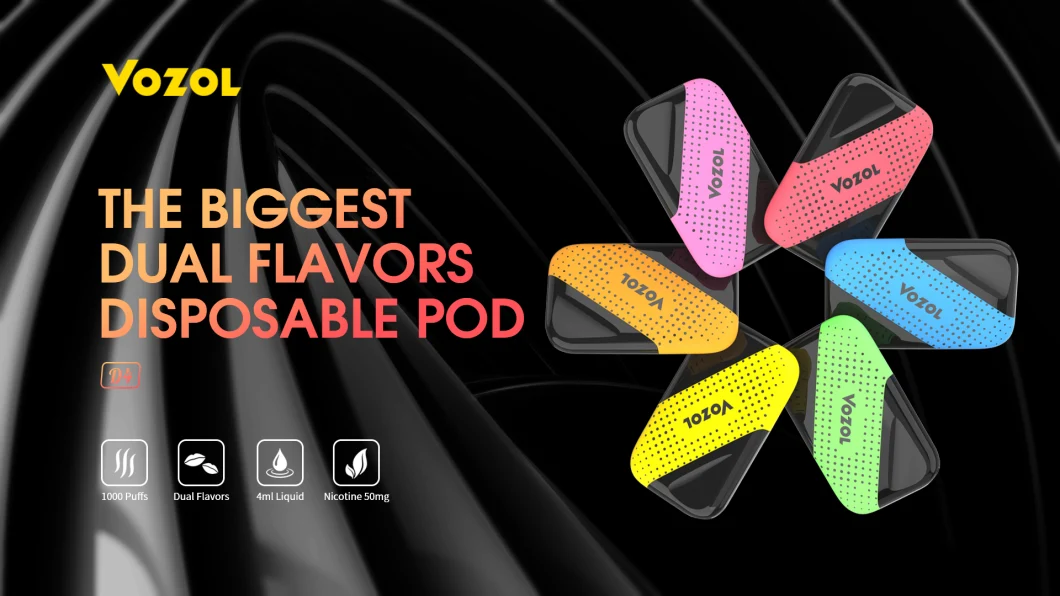 2. VOZOL D4 disposable vape pod kit, 1000 puffs by 640mAh battery,
two separate batteries support 1000 puffs, each 320mAh for 500 puffs per flavor.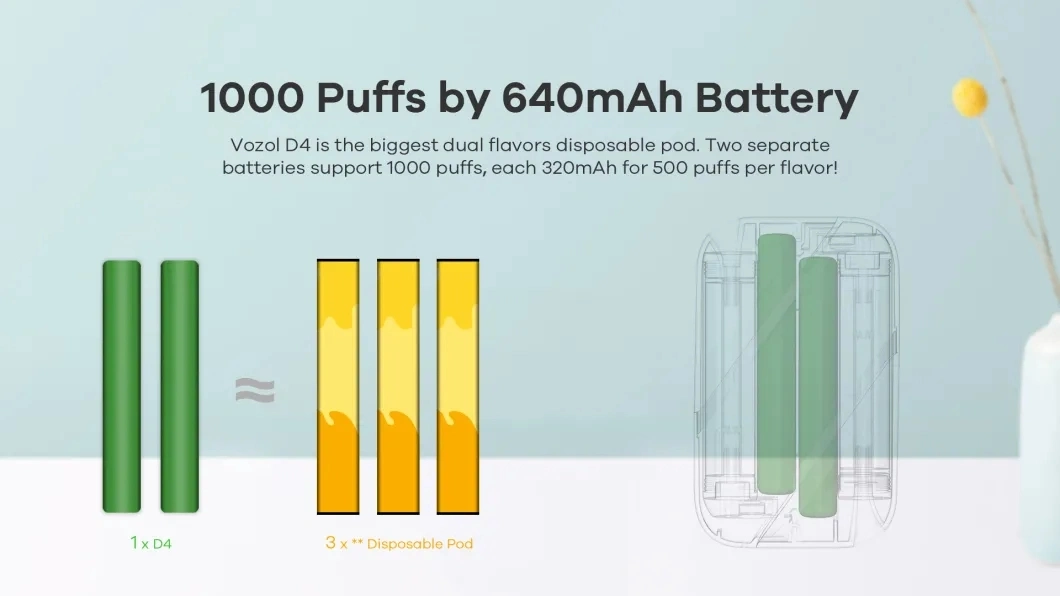 3. Vozol D4 disposable vape pod kit has 2 separate liquid containers, 2ml each of 2 flavors in total.
You can enjoy 2 different flavors in one disposable pod. It worth your try.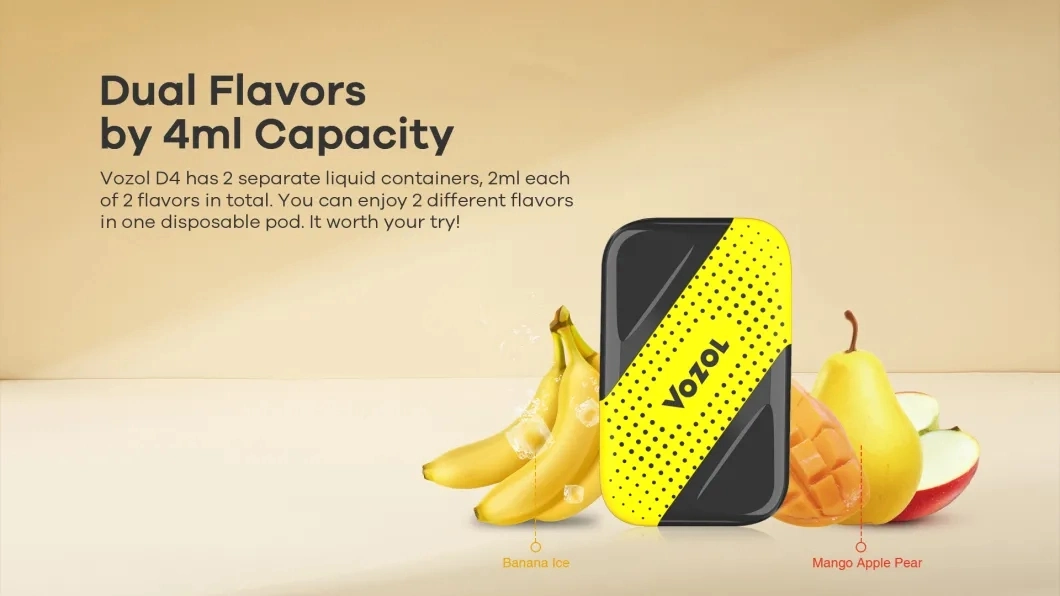 4. Unique structure offers great taste.
VOZOL D4 disposable vape pod kit brings you a nice vaping experience with its unique design.
Dual airflow & dual batteries & dual containers, to make an amazing taste into reality.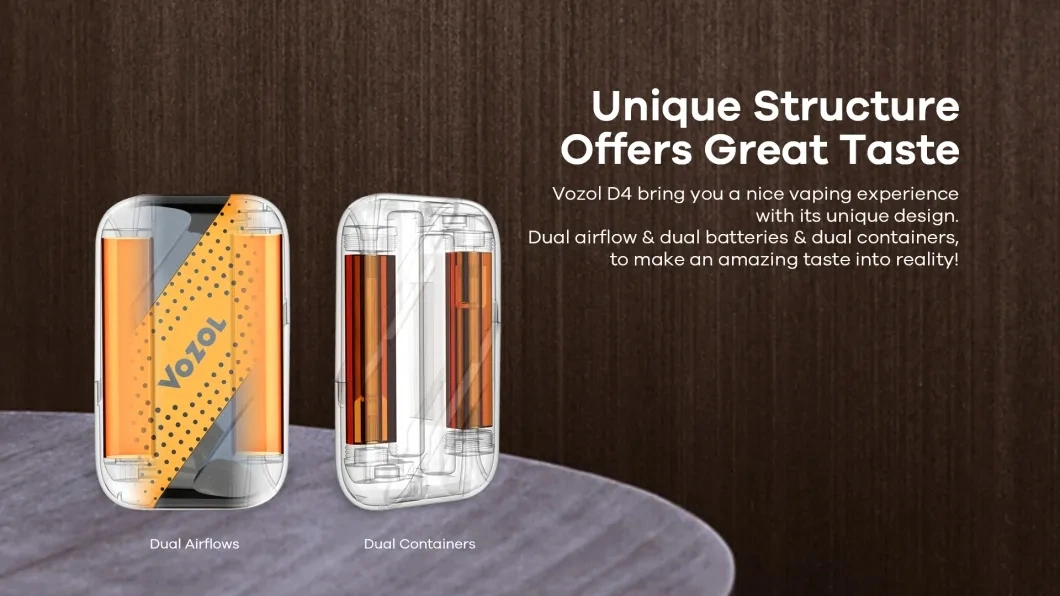 5. Easy to use with colorful appearance.
VOZOL D4 disposable vape pod kit is a pretty rubber surface disposable pod and comfortable to hold.
The flavor combinations are also easy to tell apart,
as the flavors printed on the back to indicate which side is which flavor.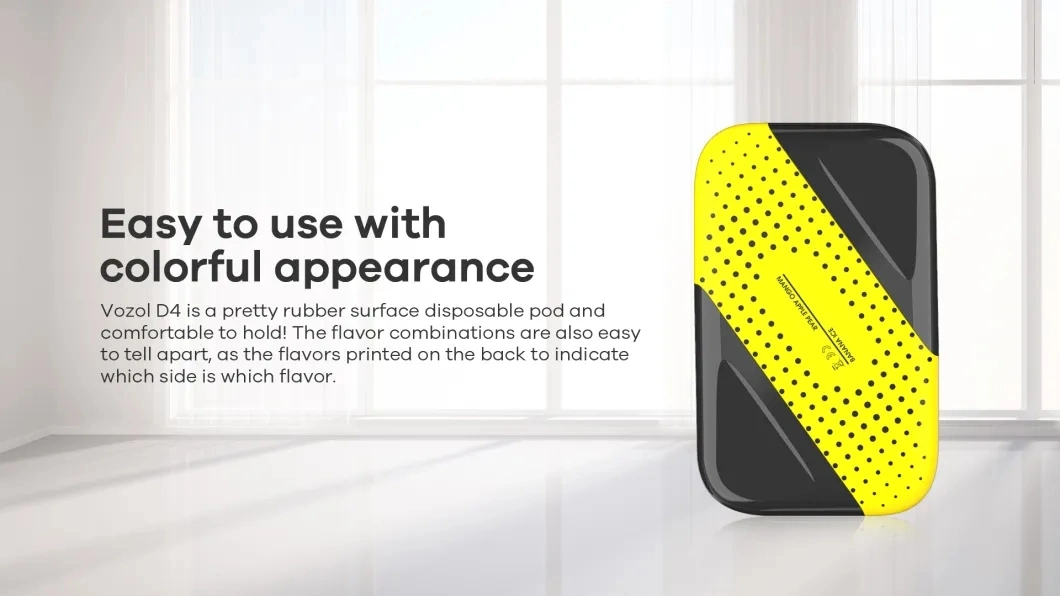 6.Multiple 8 flavors combination, plenty of flavors are waiting for you to have a try.
1.Lush Ice + Iced Mango
2.Blue Razz Ice + Strawberry Ice Cream
3.Lychee Ice + Pink Lemonade
4.Orange Soda + Pineapple Ice
5.Banana Ice + Mango Apple Pear
6.Peach Ice + Guava Ice
7.Butter Tobacco + Mint
8.Grape Ice + Mixed Berries Ice Cream