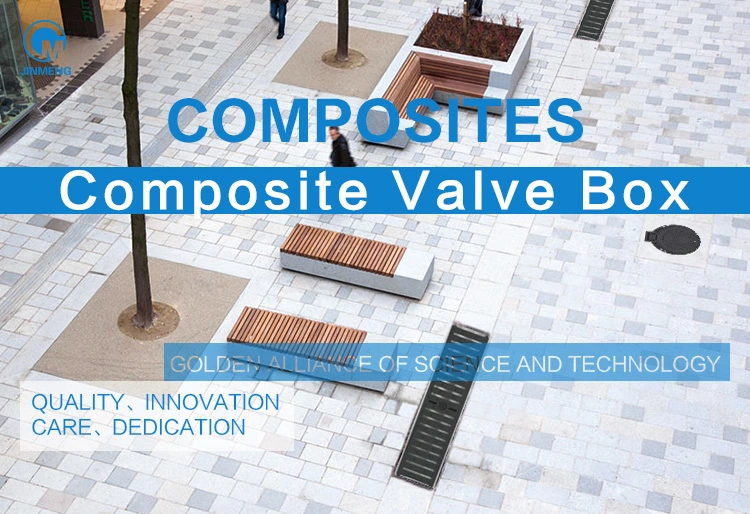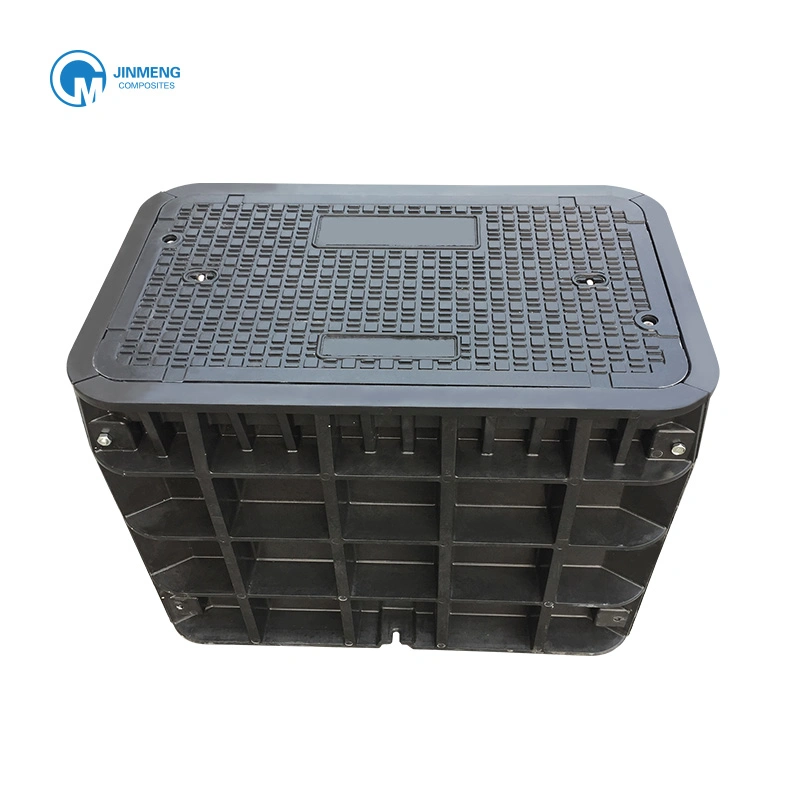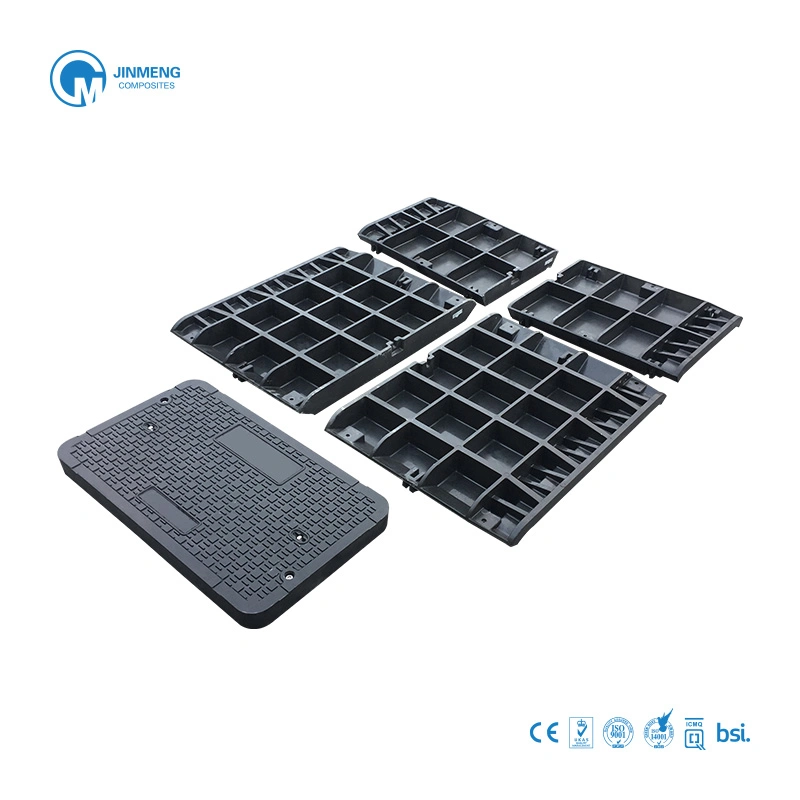 Bs En124 Composite Manhole frames with BSI certification (A15-F900)
Jinmeng composite manhole cover own CE, Eurofins, SGS, BV, ISO9001: 2008, ISO14001 certificates.
Jinmeng composite manhole cover is strictly produced according to the BS EN124 standard.
The manhole cover can be lockable, watertight / waterproof, hinged.
Testing load can match A15, B125, C250, D400, E600, F900.
Jinmeng manhole covers are mainly exported to Europe, American, etc.
JINMENG SMC/FRP Composite Manhole Cover Advantages:
1. Against theft
JINMENG SMC manhole cover is non-metallic, non-conductive and non-sparking. It has no value of recycling, thus completely solving the problems caused by theft.
2. High load capacity
SMC manhole cover main components are fibreglass and unsaturated resin. JINMENG's patent is W-SMC which is the whole and the most hard material. It is strong enough to support any load. There's no problem for its load capacity as strong as ductile iron. JINMENG's existing moulds load capacity are A15, B125, C250, D400, E600.
3. Free design
It can be designed according to the user's demands, including color, logo, surface pattern, and any other specification.
4. Long life
Range of UV stable colours available that will not flake or crack. Minimum lifespan of 30 maintenance free years.
5. Well sealed
It can be used hermetically, and effectively prevent those poisonous gases leaking out from cesspool. Well sealled, no noise pollution or rebound.
6. Good wear and corrosion resistance
It will never rust because it has good wear and corrosion resistance.
7. High and low temperature resistance
Excellent insulator against heat ( from -40 degree to 300 degree)
8. Lighter weight and more competitive price
Compared with cast iron manhole covers, the weight of composite manhole cover especially SMC manhole cover is lighter. The result is composite manhole cover is more convenient to transport, install and repair.
In all, the price of composite manhole cover is much lower than the same specification cast iron covers.
JINMENG Manhole Covers Description
FRP Composite Manhole Covers
Standard: EN 124-1994
Loading capability: A15+, B125, C250, D400, E600
Material: Sheet Moulding Compound ( SMC )
SMC Manhole Cover in EN 124 with A15+, B125, C250, D400, E600, F900
Application:
Gas
Water
Main Road
TElecommunications
Petrochemical Installations
Underground Electrical Installations
Access to Pipework Chambers and Petroleum Storage Tanks.
JINMENG Composite Manhole Covers Sizes--Round SMC Manhole cover:
Sizes
Remarks
Clear Open 315mm A15+, B125, C250
Cover Dia 360mm
Clear Open 450mm A15+, B125, C250
Cover Dia 500mm
Clear Open 550mm C250, D400
Cover Dia 600mm
Clear Open 560mm A15+, B125
Cover Dia 600mm
Clear Open 595mm B125, C250
Cover Dia 650mm
Clear Open 600mm B125, C250, D400
Cover Dia 690mm
Hinged, antistatic, watertight with lock
Clear Open 630mm A15+
Cover Dia 700mm
Clear Open 630mm B125, C250, D400
Cover Dia 750mm
Clear Open 640mm C250, D400, E600
Cover Dia 700mm
Clear Open 645mm A15+, B125
Cover Dia 700mm
Clear Open 650mm B125, C250, D400
Cover Dia 700mm
Clear Open 660mm B125
Cover Dia 700mm
Clear Open 695mm B125, C250
Cover Dia 750mm
Clear Open 715mm C250, D400
Cover Dia 756mm
Clear Open 840mm A15+, B125, C250, D400
Cover Dia 900mm
Antistatic, watertight, for Gas Station