1000L ss electric heating high shear emulsification tank/emulsifying tank
1. Made of stainless steel 304/316
2. Used to mixing liquid product
3. Mixing speed can be customized
How to select the suitable emulsifying tank:
Emulsifying tank Capacity:
100-1000L customized
Suitable Temperature
:
0-180 celsium degree or higher upon requirement
Power supply:
380V/50Hz/3Phase or customized
Construction Material
:
304/316L optional
Structure
:
3 layers(inner layer, jacket, insulation layer)
Surface
:
Inner/outer polished
Application:
Can be used to mix and melt all kinds of materials in industries like pharmacy, cosmetics, chemicals, resins, paintings, confectionary, pigments and etc..
Emulsifying
tank
application:
Emulsifying
tanks is an ideal one for mixing and emulsifying process applied by the trades of medicine, chemical and foodstuff.
Stainless steel variety of types:
Stainless steel emulsifying and mixing tank series
Stainless steel storage tank series
Homgenizer and vacuum mixing tank
Homogenizing and emulsifying machinery
Herbal Extraction and concentration/evaporation machinery
Emulsification tank pictures: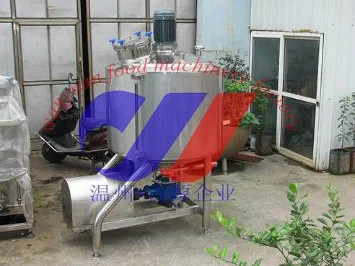 Emulsion motor: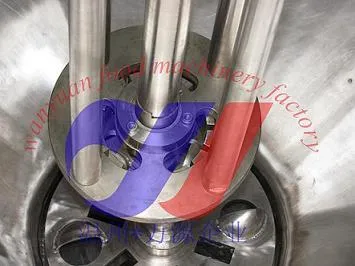 Exhaust valve: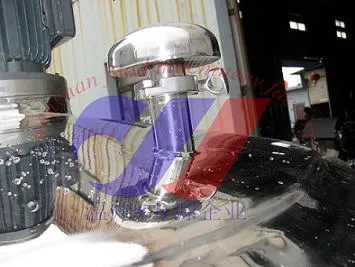 Emulsifying
tank
functional
description:
1. Triplicate mixer in main kettle make structure concisely and economize seal step and installation space. All components made strictly according to excellent craft.
2. Since mechanical seal kept clean and lubricated enough, the main kettle seal is also steady and safe even under high temperature and speed conditions.
3. Mix speed: 0~100rpm, inverter various speed adjustment; Timing adjustment of mixing.
4. Mix model could be assembled optimized according to specific material.
5. Inlet material with vacuum valve is proper for powder material craft and resolve problems of powder flying and unbalanced blending thoroughly.
6. Running in condition of super vacuum, the whole process achieves special pharmaceutic requirement of sanitation and asepsis.
7. Main kettle assembles CIP cleanness system. Part of touch with material is made of SS304 or SUS316L material imported, also managed with mirror polishing and roughness achieving to sanitary degree of 300EMSH.
8. The whole equipment made by according to GMP requirements.

TIPS:
We are manufacture of stainless steel
emulsifying
tank steam heating or electric heating.
If you are in need of any tanks, please let me know your detail request, so that we can customized the tank for you.
Wenzhou wanyuan food machinery factory--Emulsifying tank
The below is
Emulsifying tank
specifications:
| | | | | | |
| --- | --- | --- | --- | --- | --- |
| Model | Diameter (L) | External diameter (mm) | Height (mm) | Motor Power (kw) | Motor Speed (r/min) |
| WY-600 | 600 | 790 | 2200 | 7.5 | 2800/1400 |
| WY-1000 | 1000 | 1040 | 2500 | 11 | 2800/1400 |
| WY-1500 | 1500 | 1200 | 2650 | 15 | 2800/1400 |
| WY-2000 | 2000 | 1350 | 2900 | 18.5 | 2800/1400 |
| WY-3000 | 3000 | 1525 | 3100 | 22 | 2800/1400 |