PE PERT PPR Water/Floor heating pipe extrusion line
This line is specially used for producing PP/PE/PS/ABS single layer or multi-layer sheet or plate, suitable in the fields of packaging, stationery, chemicals, construction, household appliances and so on.
| | |
| --- | --- |
| Screw diameter | 90mm-150mm |
| L/D | 33:1/38:1 |
| Motor Power | 75-450kw |
| Sheet thickness | 0.2-2mm |
| Sheet width | 400mm-6000mm |
| Capacity | 150-800kg/h |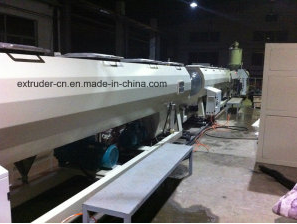 1. Extruder:
Special screw structure, imported world-known thermocontrollers, electronics, hard gear face reducers to ensure high effective material extrusion capacity.
2.T -type die head:
suitable compression ratio to ensure uniform flow stability.
3. Three-roller calendar:
According to the material properties, adopting vertical three-roller, oblique three-roller, horizontal three-roller calendar. Internal roller temperature control using a unique flow channel, so that the stability of uniform distribution roller. The independent oil temperature control for three roller to ensure more stable and exact control.
4. Cooling frame:
According to product specifications, configurations with different specifications of the stainless steel cooling roller
5. Edge-cutting devices:
Trimming can be divided into manual and automatic, three-dimensional configuration tool adjustment device, width adjustable.
6. Cut off machine:
Saw cutting or knife cutting, thin type and non-friable type sheet generally usually knife cut, adopted high-quality alloy cutting tools, sharp and durable.
Company profile:
Qingdao Leader Machinery Co., Ltd locates in Qingdao city. Our company has advanced technology and experiences in plastic machinery field. Qingdao Leader Machinery Co., Ltd is a professional manufacturer of plastic machinery, plastic extrusion line, plastic extruder, High Quality HDPE sheet manufacturing machine,PVC WPC foam board extrusion line, PVC foam board extrusion line, PVC wood plastic foam board extrusion line, PVC free foam board extrusion line, PVC/UPVC corrugated/waved roofing sheets , 16-40mm PVC braided fiber garden hose pipe extrusion line and so on.Our pipe/sheet/profile extrusion line has the feature of high-quality high-speed high-efficiency. All pipe/sheet/profile extrusion line designed and manufactured by Qingdao Leader Machinery based on many years of experience,combined with the actual situation from home and abroad,has beautiful appearance, high automation and stable production,well accepted by customers. We have exported plastic machineries to the United States, South Korea, Russia, UAE, Turkey, Iran, Saudi Arabia, South Africa, Libya, Bangladesh, Mexico, Chile, Uzbekistan, Portugal, and other countries. At the same time, the company is one of the largest exporters and have enjoyed a good reputation in domestic China and abroad. We can also provide you the best after-sales service. Qingdao Leader Machinery Co., Ltd general manager and all staff welcome all friends from home and abroad to visit us and create a new era. If you have any question, donnot hesitate to contact me.
Service by Qingdao Leader Machinery Co., Ltd.
Pre-sale service:
To provide information and market research,to provide consultation,to provide many kinds of conveniences and market service,etc. Products: PVC Foam Board Machine...
The main purpose of pre-sales service is to help customers make the project planning and system requirements analysis. Make our products maximum to meet clients' requirements. Also play the greatest overall economic benefits of customers' investment.
After-sale service:
To install products and test products freely for customers.
To provide the formulas and technologies of relevant products and the information of chemical materials manufactories.
To direct technology aspect of relevant use according to customers' requirements
To provide technical training for clients' employees.
To be responsible for maintenance service, door-to-door service under the necessary circumstance.
Technology support:
To provide installation and test for the machine.
To provide formulas and technology of relevant products.
To provide information of chemical material manufactories.
To provide technical training for clients' employees.
Sales Manager : Tiffany Wang
Qingdao Leader Machinery Ltd.,Co
Address: South of Yangjialin,Beiguan,Jiaozhou,Qingdao,China.
Mobile: 0086-15666481898
Tel/Fax:0086-532-82278979
Zip Code:266300
Website: http://extruder-cn.en.made-in-china.com