Single layer agitation tank stainless steel 500L mixing tank
Prpduct name: Mixing tank
Brand: WANYUAN
Finish: Mirror or Matt Polish
Agitator tank information:
Used as mixing tank, blending tank etc.
Ideal in fields such as food, dairy products, fruit juice beverages, pharmacy, chemical industry and biological engineering etc.
Agitator tank structure characteristics:
Made of single-layer stainless steel structure
Materials are all sanitary stainless steel
Humanized structure design and easy to operate, Transition area of interior wall on tank adopts arc for transition to ensure no dead comer of sanitation.
Open on the both sides or quick open manhole
Various types of CIP cleaning ball
Fly and insect resistant sanitary breathing cover
Adjustable triangular bracket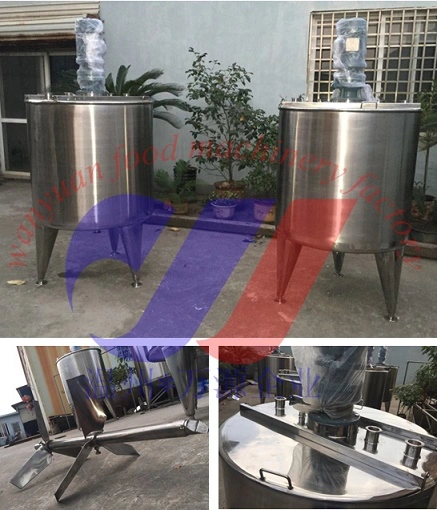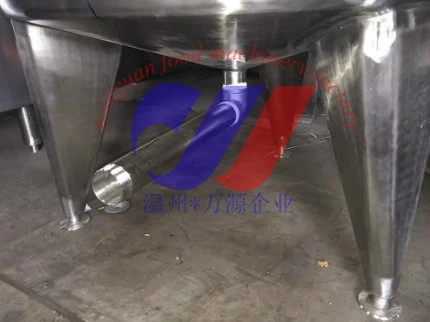 volume (L)
Dimension
(D× h ) (mm)
Total height (mm)
Diameter Of inlet
& outlet
Heat preservation layer (mm)
500
840 × 1000
2250
38
60
600
920 × 1000
2300
38
60
700
990 × 1000
2300
38
60
800
950 × 1220
2500
38
60
900
1010 × 1220
2500
38
60
1000
1060 × 1220
2550
51
60
1500
1160 × 1500
2850
51
60
2000
1340 × 1500
2900
51
60
3000
1410 × 2000
3400
51
60
4000
1620 × 2000
3450
51
60
5000
1810 × 2000
3500
51
60