G-SI series stainless steel mixing tank / dimple jacketed mixing tank
G-SI is the name of a series of mixing tanks which have similar tank structure:
Wing top / half-moon cover equipped on the tank top

Flat bottom. (to be exact, tank bottom in this G-SI series is not flat plate but inclined flat-baseplate with

3° - 10° inclined bottom to facilitate mixture drainage.

)




Top mount Mixing agitator

4. Standard mixing speed (36rpm, 60 rpm)
G-SI series stainless steel mixing tank


This series tanks can be made into steam heating mixing tank, gas heating mixing tank or electric heating mixing tanks. It can be used to milk, syrup, juice, and sugar cane. The mixing speed of this stainless steel mixing tank can36rpm, or 60rpm. The smallest mixing tank we have ever made is 20Liter, heated by electric (resistance). 5000L mixing tank and 10,000L mixing tanks are also in our production scope. Most hot sell stainless steel mixing tanks are 200L to 2000L capacity. All of our stainless steel mixing tank's capacity can be customized according to your mixing request.


G-SI series mixing tank Picture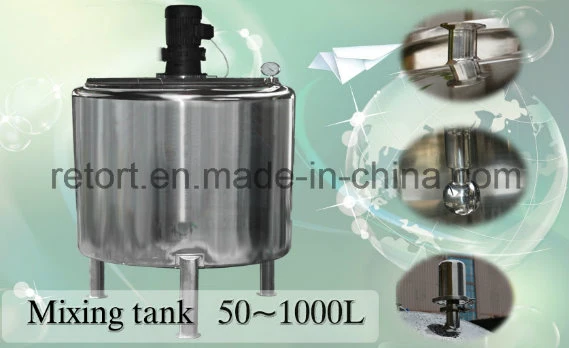 Specification of hot sell mixing tank blending tank
Tank capacity

material

Diameter×Height

Agitator

Temperature control

300L

SS304




SUS316




Stainless steel

Φ700×1500

36rpm




100rpm




300rpm




100-1000rpm

Manual control




Sami-automatic control




PLC control

500L

Φ800×1600

800L

Φ1000×2000

1000L

Φ1100×2200

2000L

Φ1400×2300

3000L

Φ1500×2400

5000L

Φ1800×3200
The above listed mixing tank diameter and height are only for reference.


If you do not have special request on diameter and height of your mixing tank, we will offer you our standard tank dimensions. If you have special request, you can customize your tanks - tell us your request on the tank diameter or offer us your mixing tank drawing (mixing tank sketch) or maybe your hand sketching of the mixing tank, we will offer you a suitable solution accordingly.


Stainless steel mixing tank material and wall thickness


Most of our mixing tanks are made of stainless steel material. SS304 (SUS304) and SS316 (SUS316) are widely used in our mixing tanks.
Usually for small capacity mixing tanks, such as 200L mixing tank, 300L mixing tank or a 500L mixing tank, our standard wall thickness will be 3mm. All our offer for mixing tanks are based on standard thickness. Offer for Customized syrup mixing tanks not included.


Temperature range of our G-SI series mixing tank


If you are going to make sugar cane candy or jaggery, you will need to heat the sugar cane juice to 115 to 120 degree. If you want to use this tank for a saponification reaction, you may only need to heat the soap paste to 50 to 60 degree C. or maybe you want to use this syrup mixing tank as a simple batch pasteurizer, 65 to 85 degree C is ok. No mater you use this mixing tank as syrup cooking tank, as chemical soap reaction kettle or as juice batch pasteurizer, our mixing tank can meet all of your temperature request without any problem.


Heating mode of our G-SI mixing tank


G-SI series tanks usually have a big capacity, for example 1000L. 2T or 5T. Heating usually done by steam vapor. In order to save steam and reduce energy consumption, dimple jacket is adopted. Some users call this the mixing tanks with dimple jacket as dimple jacket mixing tank, or dimple jacketed mixing tank. Here below is the picture of the dimple used on our mixing tank.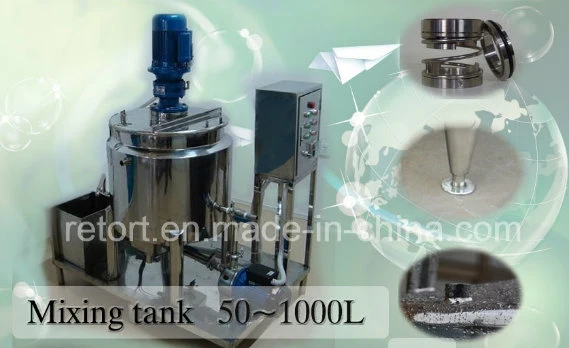 Cooling function for stainless steel mixing tank


Some users need a cooling process after heating. It is depends on your usage of this tank.
Dimple jacketed mixing tank mainly used in heating process. If cooling process needed, a coil jacket will be high recommended. You can see the coil / spiral coil in above picture. Our skilled and experienced workers will weld the coil to the mixing tank body (outside of the mixing tank's inner wall). User access the cooling medium such as ice water, cool water or glycol water into the coil, when the cooling medium pass through the cooling coil, the content in the cooling tank will be reduced rapidly. Mixing tank with spiral coil is widely called as spiral coil mixing tank, or cooling mixing tank.
If more detail specification of our dimple jacketed mixing tank, please contact us via email or whatsapp.